Since you are reading this article, you may already know that the eCommerce business in Nepal is growing with every passing day. According to Statista, Nepal's revenue from E-commerce Market was around $1M USD in 2022 and it is now projected to raise up to $2.1M USD in the next 5 years.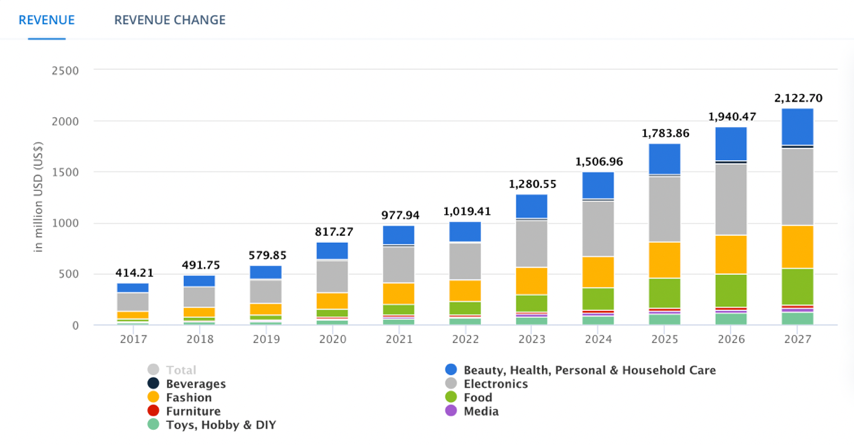 Moreover, according to a report published by The Kathmandu Post, the pandemic acted as fuel in growing the E-commerce industry of Nepal. It led more and more businesses to make their products & services accessible on online platforms like Facebook, Instagram, TikTok, Online Marketplaces, Edu-Tech platforms, and more.
This was also the reason why eLance, in 2022, transformed its simple website to an advanced e-Commerce Marketplace where businesses get their Advertising, Branding and Marketing tasks done in no time.
But, starting an eCommerce business in Nepal isn't an easy task. It requires a lot of hard work, strong business sense, product sourcing, smooth logistics, and most importantly, an online outlet where you can list your products for sale to your consumers.
For those who couldn't build their own e-commerce stores and manage logistics themselves, Marketplaces like Daraz and Sastodeal became an easy alternative where they can list their products.
Thus, if you too want to start your own ecommerce business in Nepal, you can list your products on such local marketplaces and make an INITIAL boost to your eCommerce business.
But is this enough to SCALE your eCom business to the NEXT LEVEL?
Listing your products just on such local marketplaces comes with a lot of challenges and limitations! I'm sure you're aware of these:
Let me tell a real-life story about my friend who has been actively selling products on Daraz.
Name: Rupesh Shah
Product: Organic Urea
Listed on: Daraz and Thulo Marketplaces
Avg. per day sales in the first 3 months: 8-10 orders
Statement by Rupesh:
"I was delighted by the sales I got through these marketplaces in the first 3 months of listing my products there. Before that, I barely made sales through my social pages. One of the major reasons for sales, I think, was because my products showed up on the top of Google search results when someone Googled "buy urea in Nepal". However, only after 3 months of this happiness, my sales dropped as there were many others who started listing similar products at a lower price mark. I then started listing my products on other marketplaces, which didn't give me any significant increase in sales."
What I learned from this:
The competition at Daraz and similar marketplaces is high. One day or the other, someone WILL start providing similar products with low-profit margins, ultimately killing your profits too.

Until and unless you don't present your products as a brand, people are going to go for a price war.

A website of your own is required if you want to make it big and keep the cash flowing in.
This is just 'one' story. There are other hundreds of businessmen like Rupesh, who face different challenges at different stages of their eCommerce Journey.
As you go through this article, I will highlight more challenges and limitations of listing your products JUST on Daraz (and other marketplaces) for scaling your eCommerce business. At last, I'll suggest the smartest, trendiest, and an affordable way to overcome all the limitations. So, keep reading!
Challenges of Listing your Products Just on Online Marketplaces
1. Higher Competition: 
If listing products on Daraz is so easy (which it is), don't you think it's easy for thousands of other vendors too? Yes of course! 
Thus, you must be aware that there are hundreds and thousands of similar products with similar prices which might be listed in your product category.
For you to get an idea, just have a look at this:
So, there are 3744 items listed in the category "Men's Sneakers".
Similarly:
14131 items for "Sunglasses"

6658 items for "Men's Watched"

61712 items for "Mobile Accessories"

3293 items for "Tea"

8625 items for "Pet Supplies" 
You get an Idea!
Unless you are an established brand or have implemented "out-of-the-world" strategies, it will be difficult to make your presence in the marketplace. 
A lot of businesses in Nepal are startups and due to such high competition, they are unable to scale their sales.
2. Difficulty in Identifying Buyer Personas
Having the ability to exactly track buyer's data, (like their interest, behavior, likes, dislikes, preferences, etc.) can help you communicate well with your customers and formulate strategies that lead to business branding.
However, you must understand that "Marketplace Customers are NOT YOUR Customers." Thus, you don't have any control over these data. Moreover, the customer database of these marketplaces is so huge that it can be difficult even for them to track the behavior of each customer.
Due to this reason, even if you get "some" sales through these marketplaces, it's really hard to build a brand with limited information about your buyers.
So, what is the solution?
This is where having your own eCommerce website stands out and makes a lot more sense. With your own online store, you can now track your customers' likes and dislikes just by tracing their activity on your online store. You can track:
which category of products your customers are spending more time on,

what kind of content they read on your store, 

what demographics of audience buy more from your store,

what technology they use (iPhone or Android, Phone or laptop…)

and so on…
3. "Out-of-your-Hand" Customer Service, Returns and Refunds:
Customer service plays a significant role in building trust among customers and promoting the brand, especially for start-ups. Having a great product isn't enough as you have to depend on the customer service of the marketplace.
But isn't Daraz already "renowned" for its outstanding customer support? Well, of course! You know better…
Just imagine: you order a "mini flying helicopter" from a new toy brand on Daraz that sells high-quality products. But at this time, you really don't know how well the brand is. You ordered just to try it out. You get it on time, but you don't know how to configure the helicopter. You call the support, but what will happen if you don't get the support you expect? Your interest and excitement towards the product will fall down, right?
Exactly my point! 
Even if the product is of quality, poor customer support leads to customer dissatisfaction. And, one bad review leads to a negative impression on customers.
4. Limited Control of Youru Product
Online marketplaces limit the control of your product. Most of the marketplaces including Daraz allows you to only upload product images and very short description. You can't describe your product on detailed and how it solves the problems of the target customer.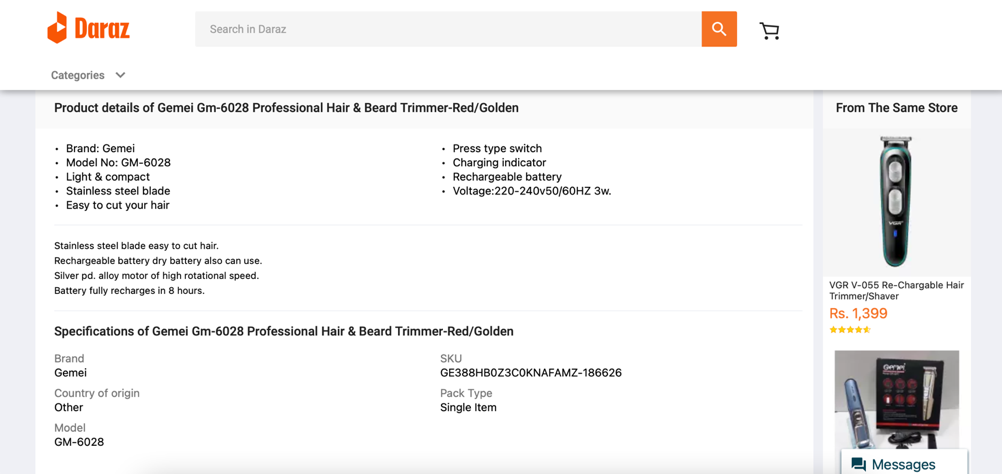 Furthermore, online marketplaces don't provide precise information about conversions, audience groups, and profit. It indirectly interrupts in identifying your buyer personas' interests, understanding their demographics, and knowing which products, services, and media they use.
As a result, it can harm your sales and conversions. If you own your eCommerce website then you can set up all these metrics in your way. 
5. No Direct Marketing Plans for Your Product:
Promoting or running ads on products listed on these marketplaces is a common way to increase customer visibility. Marketplaces like Daraz also spend hundreds and thousands of dollars on Paid Advertising every month.
But is this enough? Not at all! There are thousands of products and the spend on ads is just not enough to gain significant visibility for all the products. Some branded products might get a good number of views, but the majority might not get any visibility at all.
But you can run ads by yourself to promote YOUR products on these marketplaces, right?
Yes, you can do that. But, all the traffic through these ads go to the marketplace first, and then to your products. Knowingly or unknowingly, you're making the marketplace more popular. Your product is just getting views, but the branding goes somewhere else. People might not remember your products, but they will remember marketplaces like Daraz.
Unless you have your own eCommerce website, creating marketing plans will only help Daraz grow each day. But your business will still remain unknown.
6. Your products can be de-listed or restricted at any time
The marketplaces have their own policies for listing the products. The regulations may vary from country to country. Sellers are bound by their privacy policy and terms and conditions.
Before listing your products on Daraz, you must understand and follow Daraz's Products Guidelines Policy. A small mistake can lead to the de-listing of your product and your account may be permanently suspended.
7. Lower Profit Margin
Initially listing products in marketplaces has turned beneficial for most businesses. With that said many are struggling to make profits because of their high-cost overhead.
In the context of Nepal, when you make a sale in Daraz, they deduct the marketplace fee and shipping fee from the payment depending on which category your product belongs to. 
You can identify your product category to know how much you will be charged as a fee from Daraz's marketplace fee structure.
On the other hand, having your own eCommerce website in Nepal means you don't have to worry about any commission or listing fees. The profit you earn is entirely yours. 
8. Difficulty in Building and Establishing Brand
One of the crucial things you must understand is that the marketplace is not YOUR shop. Similarly, the customers search for the marketplace rather than the seller of the product.
The marketplaces don't provide any branding options and you can only control product photos and descriptions. Similarly, they are more concerned about the products, customers, and services than sellers. Because of this, there is less interaction between a buyer and seller. As a result, you have very less chance to improve your brand awareness.
9. No Content No SEO
One of the best ways to achieve customers is by creating engaging content and promoting it to the right target market. 
It is a fact that SEO combined with your product content can drive high organic traffic to your eCommerce website. Similarly, a study done by DemandMetric revealed 90% of all organizations use content in their marketing efforts. The study clearly shows the importance of content marketing in building and establishing a brand.
Sometimes, due to a lack of knowledge of this SEO knowledge, sellers or even marketplace managers miss out on making your content SEO Optimized. Sometimes the content is even plagiarized. This will not help you to scale your eCommerce Business. You can always opt for SEO services in Nepal at eLance.
The Solution
A single-vendor eCommerce website built with YOUR branding and only products YOU want to sell. This completely destroys the challenges brought in by online marketplaces like Daraz and Sastodeal.
Here are a few benefits of having your own online eCommerce store:
You don't have to worry about completion, as only your products are listed there.

Customers coming to your store are YOUR customers. You can understand buyer personas and create remarketing campaigns to keep your customers engaged.

Customer service is completely under your control. You can provide dedicated customer support, refunds, and returns directly from your store. Result – Increased customer satisfaction.

Present your products in the way you like. Add images, pictures, gifs, text content, blogs, etc. to make your products presentable and brandable.

Create Marketing plans for your eCommerce store yourself. Offer discount codes throughout your store yourself.

No other vendors are selling on your online store. It's only YOU! So, price your products based on what profit margins your product deserves.

You can establish your brand

You can take proper care of the store's SEO.
So, what are you waiting for? 2023 is the time to upgrade your eCommerce business. See the features your online store should have.