Google
My Business
/Local SEO Services
Unlock The Power of Local SEO for Your Business!
We are excited to introduce our comprehensive "Google My Business" services, specifically designed to catapult your online presence, making your business stand out, and enhancing your local search engine visibility.
Our
Process
for Faster Results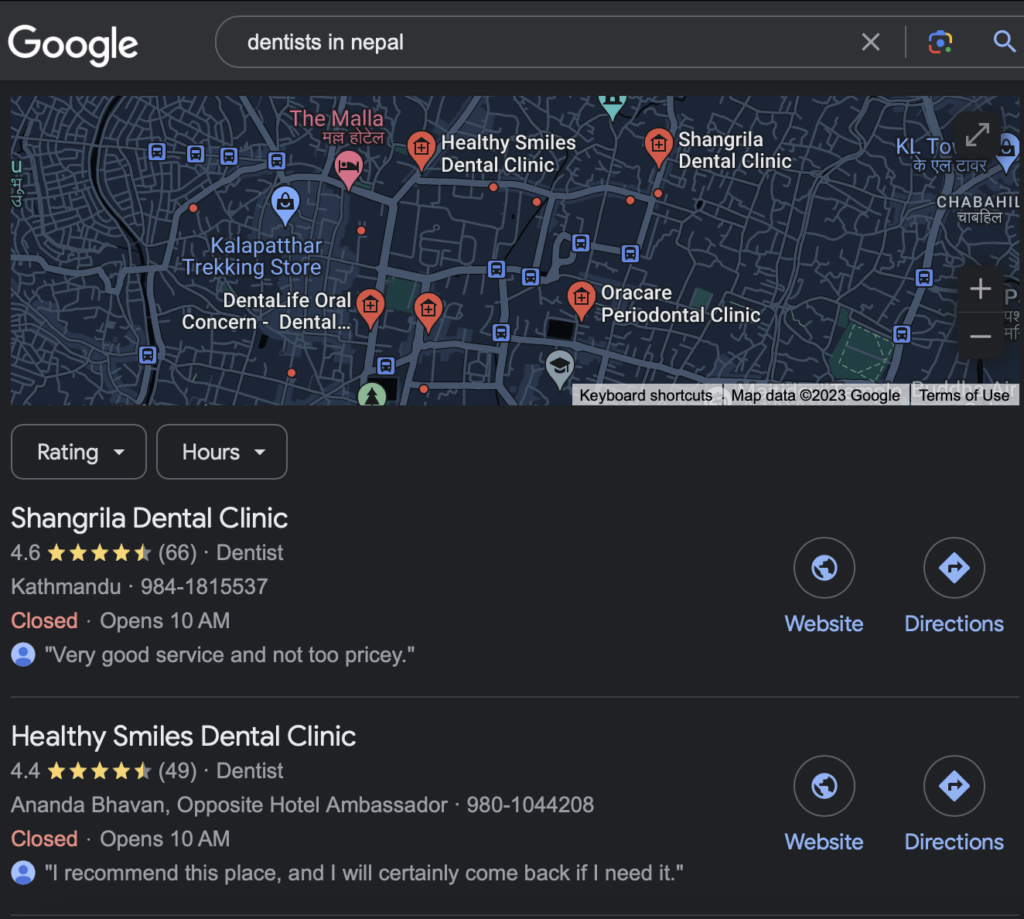 Understanding Local SEO is paramount in today's digital marketplace. It refers to the tailored approach to amplify your business's online presence for location-centric searches.
This is vital for businesses operating from a physical location or catering to a specific geographic locale. Having your business represented on Google Maps, fine-tuned with local SEO, makes it seamless for potential customers in your area to discover you.
Think of it as a digital 'open for business' sign that glows around the clock, driving more local footfall, leads, and sales to your doorstep. Neglecting Local SEO means missing a direct conduit to your local customers – a chance you can't afford to take.
eLance – A Leading
SEO Company in Nepal
You may have built a perfect website for your online presence to connect with your target audience. However, if your website is not able to attract visitors, then it becomes a waste of both time and money.
That's where eLance, as one of the top SEO companies in Nepal, can help.
We are dedicated to helping your website rank number one in search engine results. We have a team of experts who bring extensive experience and expertise to the table. With our knowledge, experience, and dedication, we are committed to bringing your website to the forefront of search engine rankings and ensuring maximum visibility. 
However, our goal is not only to rank your website at the top but also to help you establish a strong online presence, generate quality organic traffic, and drive meaningful results for your business. 
Don't let your potential targets convert to your competitors! Partner with Elance – the best SEO services in Nepal.
Local SEO in Nepal –
Our Process
We conduct in-depth market analysis to understand the unique dynamics of your local market in Nepal. By tapping into this understanding, we can effectively tailor your marketing strategy to meet the specific needs and preferences of your local customers.
#2 Google My Business Optimization
A key part of our process is optimizing your Google My Business profile. We ensure that your business is prominent on Google Maps and local searches, making it easy for customers to find you and enhancing your chances of attracting more local business.
#3 Localized Keyword Research
We undertake thorough localized keyword research specific to the Nepalese market. This means that your business is more likely to be found by your target audience, enhancing your online visibility and driving more local traffic to your website.
We enhance your local presence and improve your SEO ranking by listing your business on top Nepalese directories. This increases your business's visibility, credibility, and accessibility to potential customers.
#5 Online Review Management
We manage online reviews on your local listings. By promptly and professionally responding to both positive and negative feedback, we help enhance your reputation amongst your customer base in Nepal.
We monitor and report on the performance of your local SEO efforts. This gives you a clear picture of how well your business is doing online and provides you with actionable insights that can be used to continuously improve your local SEO strategy in Nepal.
Why are SEO Services at eLance better
eLance is a result-focused SEO Agency in Nepal. We are committed to delivering affordable SEO services in Nepal that are result-oriented while driving tangible outcomes for our clients. We are dedicated to implementing strategies that result in organic traffic, improve keyword rankings, and ultimately generate meaningful leads and conversions for your business.
With a strong emphasis on transparency, we are proud to provide the best SEO services in Nepal with a transparent reporting system. Any task performed on your website is recorded as a report on a Google sheet, which is always shared with our clients. 
You can expect open and clear communication from the moment you engage with us. Plus, we ensure that you are fully informed about SEO strategies and progress throughout the project cycle.
When it comes to SEO, there is no one size fits all approach as every business is unique.
Our team of experts crafts tailored strategies that align with your specific goals, industry, and target audience. 
Following the best practice for SEO in Nepal, we thoroughly analyze your business, competitors, and market dynamics to build personalized SEO strategies that maximize your online visibility and drive relevant organic traffic.
#4 eLance Academy also Features SEO Courses in Nepal
Well, eLance is not only an SEO Company in Nepal, but we also have been providing SEO Training in Nepal ever since we were established. That's why we are confident and always up for educating all our clients with all the steps and strategies we follow to rank their websites higher on Google.
Here's what you get when you subscribe for our Local SEO Service in Nepal.